Accommodation: Apartment Antena - Budva Montenegro
Budva, Montenegro
category
category
category
Number of views: 116210
from
10€
per person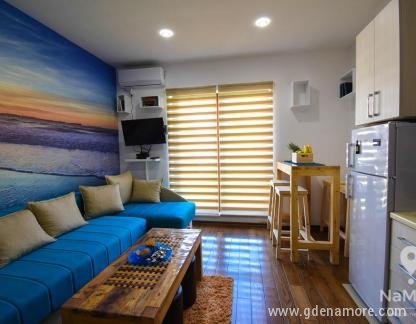 Contact Person:

Jelena Vujadinovic

Address:

Jadranski put

City: Budva, Montenegro
Phone: -
Cell Phone: -
Web: -
Show map
Owner speaks languages:Serbian, English, Italiano, Russian
Apartment:
Room:
Studio:
Whole object
Apartment Antena is located in Budva, positioned at the main street Jadranski put with a balcony overlooking the mountains and exudes uncharacteristic peace.

The apartment is a 10-minute walk from the Old Town, and the sea is only 150 meters away. Market and pharmacy are nearby and open 24/7.

https://namapi.me/properties/apartments-antena-budva-montenegro
Our apartment is air conditioned and has Wi-Fi.

The modern and elegantly equipped apartment has a kitchen and a plasma TV.

If necessary, there is an option to contract a car rental.

Daily price:

April - 40 EUR

May - 50 EUR

June - 60 EUR

July - 70 EUR

August 70 EUR.

September 50 EUR.
Legend:
All rooms, apparments
Some rooms, apartments
No
Capacity:

4

Seaview:
Water 24h:
Bathroom:
Kitchen:
Room service:
Safe box:
Large terrace:
Balcony:
Air conditioning:
TV:
Cable TV:
Internet:
Telephone in the room:
Parking:
Garage:
Pool:
Suitable for children:
Pets allowed
Suitable for disabled people:
Characteristics of accommodation
Legend:
All rooms, apparments
Some rooms, apartments
No
Capacity:

4

Seaview:
Water 24h:
Bathroom:
Kitchen:
Room service:
Safe box:
Large terrace:
Balcony:
Air conditioning:
TV:
Cable TV:
Internet:
Telephone in the room:
Parking:
Garage:
Pool:
Suitable for children:
Pets allowed
From the center:

800 meters

From the beach:

150 meters

From bus station:

650 meters

From airport:

22500 meters
From ambulance:

500 meters

From restaurant:

200 meters

From sports fields:

300 meters
Prices and payment options
Payment options:
Cache:
By bank transfer:
Credit cards:
In Pre-season

50

In high-season

60

In post-season:

50

Out of season:

40
Updated: 07/09/2022
Powered by GdeNaMore.com